Improving Accuracy and Productivity for Wheel Loaders — Volvo Load Assist: Part 3
Part three: Operator coaching
This is the final part of our series on Load Assist, the Volvo program that provides wheel loader operators real-time payload data and other machine information. In part one, I covered the differences between 1% and 2% accuracy modes, and part two I went more in depth on On-Board Weighing and how the app makes operators more accurate to improve profitability.
As I mentioned, Volvo plans to develop and launch new apps for our Assist programs in the future, and I'm excited to share with you the benefits of our newest Load Assist app: Operator Coaching.
Machines are becoming more advanced with smarter technology, so our new Operator Coaching app helps ensure operators use their Volvo wheel loader to its full potential. It provides real-time guidance to operators, helping them understand how their actions influence their productivity and efficiency, as well as identify areas for improvement or changes in their driving technique.
Operator coaching really takes the interface between the machine and the operator to a new level. When an operator is working, it's hard to monitor important performance metrics like idle times and fuel use. But with Operator Coaching, an operator's performance can be reviewed, and adjustments can be made for future projects.
Setting operator goals
You can set up goals for each operator and save them. When an operator signs in and opens Operator Coaching, he can see his goals. You can set up:
Idling over active time (e.g., no more than 25%) – The percentage of operating time the machine is standing still while in neutral. Construction machines often excessively idle up to 40 to 50% of their operating time.
Braking over distance (e.g., no more than 40%) – Use of the service brakes should be minimized to reduce machine wear and fuel consumption.
Throttle position (e.g., 50% or less) – Excessive throttle equals excessive fuel consumption.
Amount of lock-up achieved (e.g., 75% or more) – Lock-up engagement reduces fuel consumption and increases productivity by maintaining a higher wheel speed in challenging terrain.

The white inner line indicates the target area, and the outer line indicates the current achieved value since the last reset. When the circle is yellow, the operator is above 50% of his target, orange is below 50% and green means he's inside his target range.
On-the-fly notifications
As the operator is working, pop-ups will periodically notify him of how he's doing. Co-Pilot gives the operator on-the-fly advice to improve his performance, which translates to improved profitability. Examples include:
If he didn't have boom suspension activated and he's driving around, a notification on Co-Pilot would say, "Please activate boom suspension to improve your productivity."
If he was driving around all morning in second gear and not using automatic, a notification would say, "Please put the transmission in automatic to improve your fuel efficiency." When he's finished for the day, he can review what he achieved for the day and see if he achieved 80 or 90% of his goal. If he ended the day at 10 or 15% of his goal, then the goal may be set too high, or he may not be paying attention to the advice from the machine to adjust.
If he needs to engage lock-up to decrease fuel consumption, a notification would say, "Activate lock-up by pressing the lock-up switch."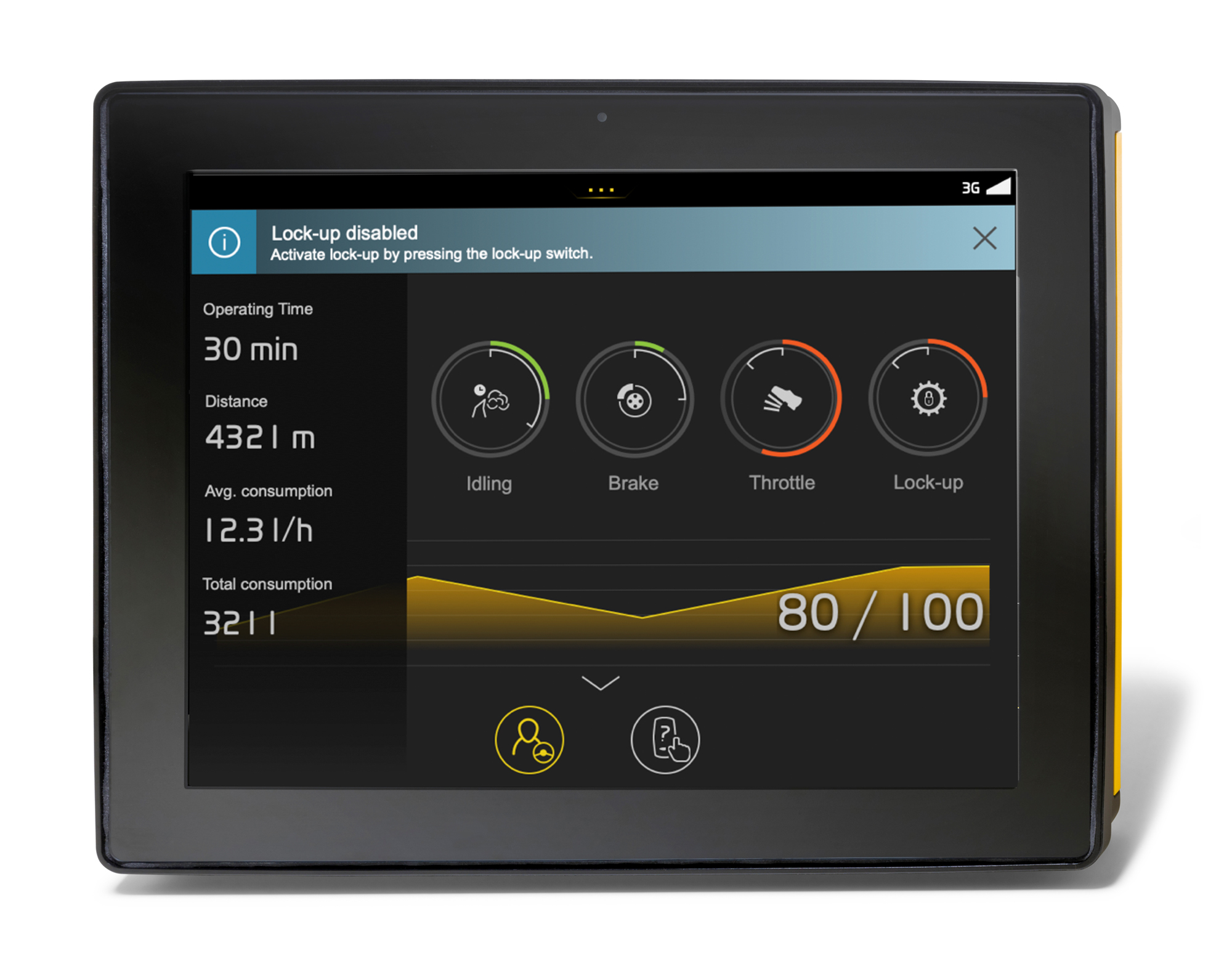 With information like this available at their fingertips, operators can work in a way that delivers optimum fuel efficiency and reduced machine wear. Simple adjustments can make big-time improvements to productivity over the course of a year.
Know the switches
Another handy part of Operator Coaching is an interactive feedback feature for the switches in the cab. If the operator presses a switch on the "A" post, it'll pop up on the screen and tell him what that switch does.

Operator Coaching is a great example of the types of future apps you can expect for the Volvo Assist programs. Every app we develop and launch at Volvo will be dedicated to helping customers improve their productivity, efficiency, safety and, ultimately, their profits.
Learn more about Operator Coaching, and be sure to check back for future posts covering even more exciting Load Assist apps from Volvo.