Haul Assist Part 1: On-Board Weighing
The various Assist programs we've been rolling out over the past several years have become increasingly popular with owners, fleet managers and operators alike — and Haul Assist is no exception. Haul Assist — powered by Volvo Co-Pilot — allows operations to monitor the performance of their articulated hauler fleet to optimize haul cycles. Anyone moving a large amount of material (quarries, mines, construction, large infrastructure, etc.) and looking to increase the productivity and efficiency of their operation will benefit from the valuable information this system provides. Plus, it's incredibly easy to use and provides accurate reporting.
Another huge benefit is that Haul Assist On-Board Weighing provides a productivity report (daily or weekly) that enables simple and quick reporting capabilities from the machine to the back office. That's right, you can dump the notepads and tracking sheets, and you don't have to rely on your operators to keep track of their load counts. This helps you eliminate any potential errors that can be caused from your operators doing this process manually.
In this two-part series, I'll first share an overview with some insights on Haul Assist On-Board Weighing, then we'll take a look at our newest app: Mapping.
What is Haul Assist On-Board Weighing?
On-Board Weighing is the first app available within the Haul Assist platform (additional apps are being developed to make the program even more robust). It comes standard on our A35G through A60H models and is available as an option on our A25G and A30G models. For older models, it can be retrofit back to our F series haulers.
On-Board Weighing is an intuitive app that monitors the amount of material moved, providing useful data and insights on an articulated hauler's productivity. It helps ensure every hauler shifts the optimal payload every time. It also offers superb accuracy, eliminating under-loading for peak productivity and over-loading for reduced fuel consumption and wear. Let's take a look at some of the features of On-Board Weighing.
The productivity view shown below gives the operator an overview of the current machine's productivity status that can be monitored at any time in the cab. Fleet managers can also use the extracted data to maximize a site's productivity and efficiency more proactively.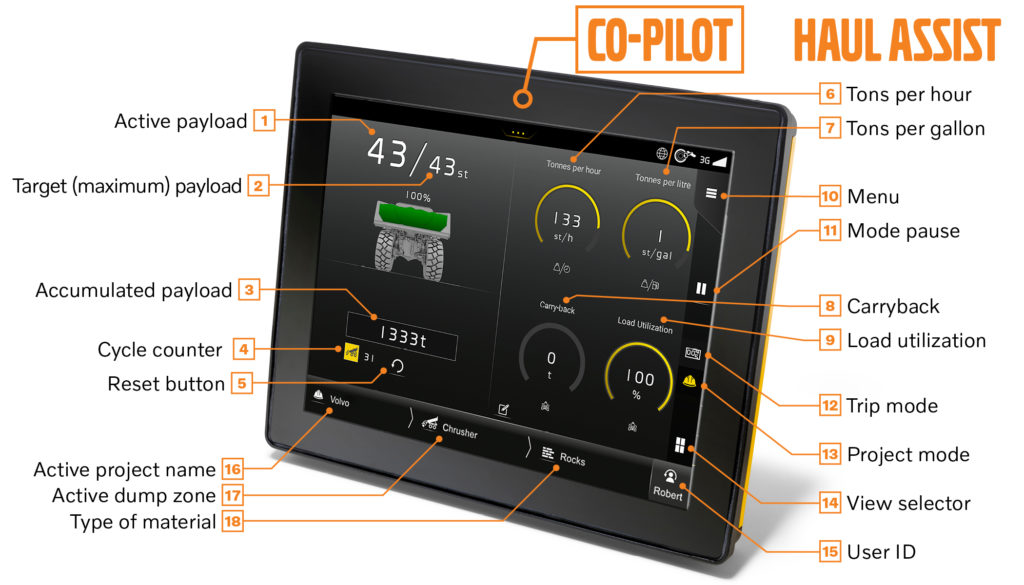 A few additional details on several of the features identified above:
Active payload – The current weight of the payload in the bed. The image below this number shows the active payload as a percentage.
Target (maximum) payload – The payload capacity of the hauler.
Accumulated payload – The total amount of transported material.
Cycle counter – The number of load cycles by the hauler for the day.
Reset button – Used to reset all data (i.e. starting a new day).
Carryback – For material that's sticky, it keeps track of the tons that get carried back to the loading tool, which you want to limit as much as possible. If you see a lot of carryback, it indicates you either need to do some operator training or possibly look at other ways to get the material out. Looking at different wires for the trucks, polyurethane liners or bed heat are just some of the options.
Load utilization – If you're running a 45-ton truck and you're carrying 45 tons each time, you have 100% utilization. If you're seeing 80% utilization, it may mean the material density is really low and we can recommend side boards, tailgates or steel guards for your truck. You want your operators to stay somewhere between 95% and 110% load utilization. This is excellent data to help you spec the right trucks for your operation.
Project mode – This can be toggled on or off. When using Project mode, a bar at the bottom appears and includes the three features identified above (16 – 18).
Active project name – You can set up different projects to monitor and manage.
The operator can decide which status information to display on the screen, depending on what's considered most relevant. For each status information, it's possible to add a target so that the operator can monitor the progress in relation to expectations.
Project Mode vs. Trip Meter Mode
On-Board Weighing provides each operator with multiple tools to monitor production and productivity of the machine. The feature can be used in either Project mode or Trip meter mode.
Project mode allows the operator to set up projects, add dump zones and material types, as well as provide targets. Using these functionalities makes it easier for the operator to monitor production as well as report progress to the back office. Note that sometimes you don't need Project mode. If you're on a construction site and simply moving dirt, for example, you likely just need to know how many loads you move and how much material you move using Trip meter mode. Project mode is easy to set up:
Trip meter mode provides the operator with a payload counter (which can be reset), a cycle counter, as well as other valuable payload information. It essentially tells you what material was moved, tons per day (or whatever has been carried), and how many times the operator did that same trip. Here's a quick overview:
Rear Camera View for Added Safety
The rear vision system can be integrated with the Volvo Co-Pilot and is viewed either by pressing the rear camera icon in the view selector or by applying the reverse gear. In order to support the operator when reversing, reference points (yellow dots) are visible in the screen.
The rear camera can be viewed in full screen or split screen. When reverse gear is applied, the rear camera will always appear in full screen.
Valuable Productivity Report
As I mentioned earlier, Haul Assist On-Board Weighing provides an easy-to-use daily/weekly productivity report from the machine to your back office. It's created in the Volvo Co-Pilot and can be extracted via a USB stick or sent via 3G to a cloud solution provided by Volvo. The report can either be scheduled to be automatically generated at a given interval or be generated manually at any time.
The report includes a PDF document that provides productivity and efficiency information about the machine for a given time period. Also, a raw data document (.csv format) is generated that specifies by cycle information for the given time period. If your haulers are connected with SIM cards, then you get the report sent automatically through the CareTrack admin and portal. That allows you to review data daily and make modifications to improve productivity, efficiency and, most importantly, safety. Just note the productivity report is additional to the information available in CareTrack.
Here's how to set up Haul Assist Productivity:
Hauler Connectivity: It's Worth It
While purchasing SIM cards for your fleet is an investment, ask yourself these questions and see how that investment can pay off in the long run:
How many tons are you potentially losing from underutilized trucks?
How many unnecessary service calls have you made from overloaded trucks?
How long does it take for you to compile your production data manually? How much is that costing you?
How long is the response delay to make operational adjustments to account for lost productivity or efficiency? For example, an adjustment the very next day versus next week saves you five days of lost productivity on your site.
How are you verifying the load count data your operators provide?
How much easier would payroll be for operators who are paid by the load/ton?
How much easier would it be to have this functionality standard on your trucks through the OEM versus working with a third-party supplier?
When your fleet is connected, you get daily and/or weekly production reports sent automatically that help you maximize your tons per gallon, maximize your production, and do it for the minimal amount of cost. It's about both saving money and making more money — together, they can quickly pay you back for your investment.
To learn more about the value of Haul Assist On-Board Weighing, call your local Volvo dealer. And be sure to check out our complete Haul Assist On-Board Weighing video playlist to learn even more about the simple functionality and valuable data this system provides. Finally, be sure to check out Part 2 of this series which covers our newest app: Haul Assist Map, coming later this month.